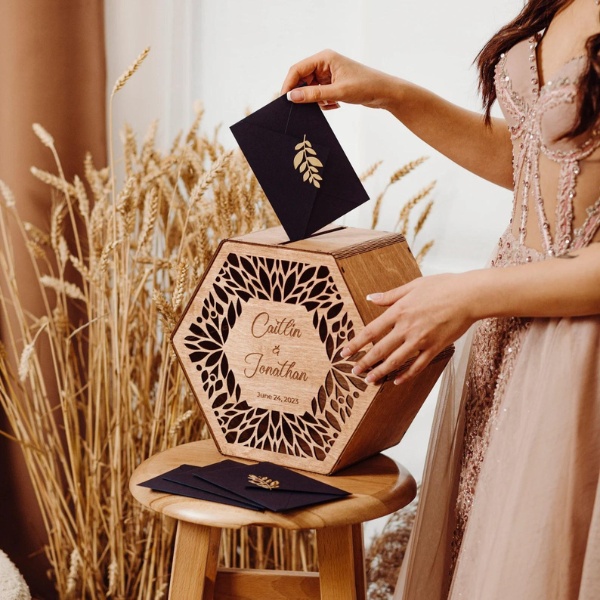 Wedding Card Box Ideas: Products You'll Love! Looking for a beautiful way to collect your wedding cards? Creative wedding card box? What to put on your wedding gift table?
This site contains affiliate links. For more info, please see our full disclosure.
From beautiful acrylic elegant wedding boxes to rustic chic designs, we've rounded up our favorite money box designs from Etsy that you will love!
These wedding card boxes will help you not only secure the cards (and money!) but also welcome your guests as they can be part of your welcome table decor!
You'll notice that these selections are not only beautiful but also functional. Helping you ensure that your card box actually fits the envelopes (depending on your wedding guest count!)
Choosing a card box that you can also take home as a keepsake or part of your home decor will help you get more value out of it!
Some of them also have locks if there is no one "watching" the welcome table where the wedding car box is, having a lock makes sense. Of course, you trust your wedding guests, but remember some wedding venues still have other events happening at the same time.
In addition, there is also a lot of staff in and out. The safety (and safeguarding!) of the card box is essential.
PRO TIP: Assigning someone from your family or friends (one you can truly trust!) to keep an eye on the wedding car box will help you "not worry" about it. Also, having a locked room where you can store this will also be helpful.
DESIGN TIP: Add some blooms around the money box to tie it in with your wedding decor, flowers, and centerpieces. Speak to your florist and ask for extra blooms to be placed around the money box.
DIY TIP: You can add greenery stems easily yourself if you want to elevate the look of these wedding car boxes!

There you are lovelies! Wedding Card Box Ideas: Products You'll Love!!