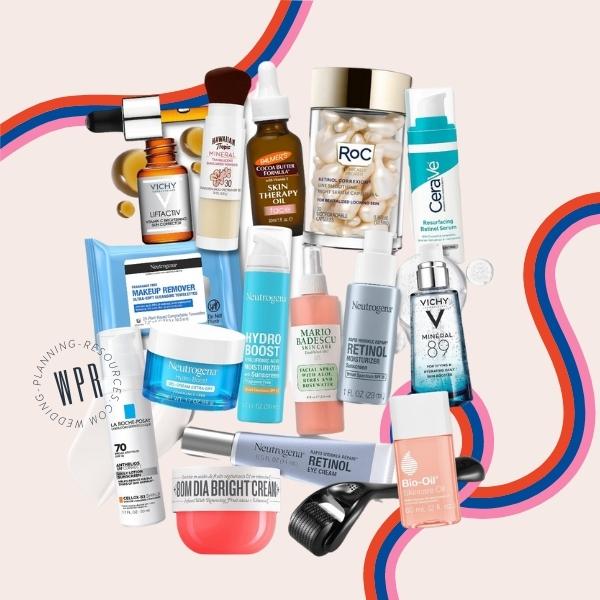 Skin Care : Gift Guide. Indulge in luxury. Glowing skin awaits. Give the gift of beauty. Elevate their skincare routine. Radiant skin coming up. Pamper and renew.
This site contains affiliate links. For more info, please see our full disclosure. This post has Amazon links and as an Amazon Associate, Wedding Planning Resources earns from qualifying purchases.
In today's fast-paced world, taking care of our skin is not just a routine but a cherished self-care ritual—a moment to unwind, refresh, and indulge in the art of glowing and healthy skin.
Whether you're shopping for a skincare enthusiast, a beauty aficionado, or someone who deserves a little extra pampering, our gift guide is here to help you discover a range of skincare treasures.
From revitalizing serums to soothing masks, from nourishing creams to eco-friendly skincare solutions, we've curated a selection of products that cater to different skin types and preferences.
This guide covers a diverse selection of skincare essentials that are designed to rejuvenate, replenish, and reveal the radiant beauty of healthy skin.
Pay attention to the ingredients in skincare products. Some people prefer natural or organic ingredients, while others may have specific ingredients they love or avoid (e.g., hyaluronic acid, retinol, fragrance-free). Make sure the products align with their preferences.
Think about where the skincare gift fits into their routine. Are you looking for daily essentials like cleansers and moisturizers, or special treatments like masks and serums? Ensure the gift complements their existing routine.
Consider any skin sensitivities or allergies the person may have. Opt for hypoallergenic, non-comedogenic, or gentle skincare options if necessary.
Sunscreen is a crucial part of skincare. Including a high-quality sunscreen in the gift can help protect the skin from UV damage.
If you're unsure about specific products, gift cards to skincare or beauty stores can be a great option. This allows the recipient to choose products they truly want.
With the above considerations in mind, you can pick skincare products that are tailored to your recipient's skin needs and preferences, making for a thoughtful and personalized gift.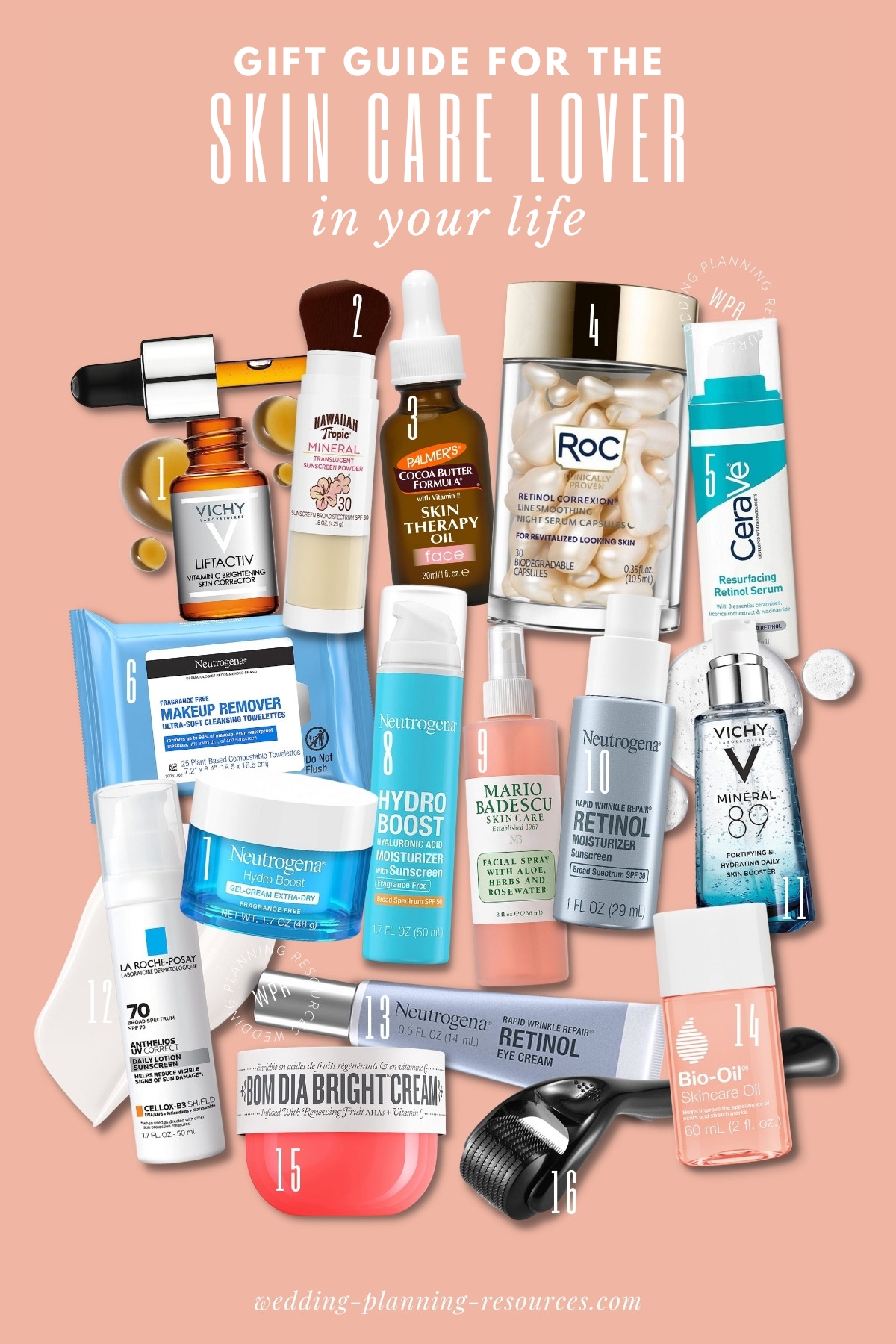 Skin Care : Gift Guide
Elevate your skincare routine with the Vichy LiftActiv Vitamin C Serum, a potent and revitalizing elixir for your complexion. Formulated with 15% pure Vitamin C, this serum is designed to brighten and rejuvenate your skin, promoting a more youthful and radiant appearance.
With its firming and antioxidant properties, this serum offers the gift of glowing, moisturized, and revitalized skin that any skincare enthusiast will cherish.
Give the gift of sun protection and radiant skin with the Hawaiian Tropic Mineral Powder Sunscreen Brush. This SPF 30 translucent powder sunscreen is a must-have for any skincare aficionado.
It not only shields the face from harmful UV rays but also leaves the skin looking fresh and matte, making it an ideal addition to their beauty regimen.
Indulge a skincare enthusiast with the luxurious Palmer's Cocoa Butter Formula Moisturizing Skin Therapy Oil for Face. This delightful oil blend is enriched with vitamins E and C, alongside ten pure facial oils, and carries a fragrant rosehip scent.
Whether used as part of a daily routine or for a special pampering session, this facial oil adds a touch of luxury and rejuvenation to their skincare regimen.
Unwrapping youthful skin has never been easier with RoC Retinol Correxion Anti-Aging Wrinkle Night Serum. Each box contains 30 individual capsules, making it a perfect gift for skincare lovers.
With a scent-free formula, these capsules help smooth fine lines, fade dark spots, and even tackle post-acne scars, providing a revitalized look and feel to the skin.
CeraVe Retinol Serum is the ideal gift for those seeking post-acne marks and skin texture improvements.
With the power of retinol and niacinamide, this fragrance-free serum provides pore-refining, resurfacing, and brightening effects. It's the perfect addition to any skincare routine and comes in a non-comedogenic formula for worry-free application.
The Neutrogena Fragrance-Free Makeup Remover Wipes offer a convenient and effective way to cleanse your face. These alcohol-free towelettes are gentle and perfect for removing makeup and oil. With 25 wipes per pack, they're a handy addition to any skincare routine.
Neutrogena's Hydro Boost Hyaluronic Acid Hydrating Face Moisturizer Gel-Cream is your answer to combating extra-dry skin.
This luxurious gel-cream formula is infused with hyaluronic acid, which hydrates and smooths your skin for a refreshed and radiant look. With 1.7 ounces of product, it's a reliable choice to keep your skin moisturized and rejuvenated.
Neutrogena's Hydro Boost Hyaluronic Acid Facial Moisturizer with Broad Spectrum SPF 50 Sunscreen is your go-to solution for daily skin hydration and sun protection.
This water gel face moisturizer not only soothes dry skin but also shields it from harmful UV rays with its SPF 50. In a convenient 1.7 fl. oz bottle, this fragrance-free moisturizer is your secret to radiant and protected skin.
Mario Badescu's Facial Spray with Aloe, Herbs, and Rose Water is a refreshing and rejuvenating face mist suitable for all skin types.
This facial spray offers a hydrating and clarifying experience, leaving your skin feeling revived and balanced. Enjoy a burst of hydration and a touch of luxury with each use of this delightful skincare product.
Neutrogena Rapid Wrinkle Repair Retinol Face Moisturizer with SPF 30 is your daily anti-aging essential. Packed with the power of retinol and hyaluronic acid, this face cream fights fine lines, wrinkles, and dark spots.
It not only nourishes your skin but also provides SPF 30 sun protection, making it a versatile and effective skincare solution.
Vichy Mineral 89 Hyaluronic Acid Face Serum is the ultimate moisturizing and hydrating serum for sensitive and dry skin.
Packed with pure hyaluronic acid, this gel moisturizer revitalizes your skin, leaving it feeling fresh and nourished. Give your skin the care it deserves with this trusted Vichy product.
La Roche-Posay Anthelios UV Correct Sunscreen Moisturizer SPF 70 is the ideal daily anti-aging face moisturizer with added sun protection, making it a perfect choice for sensitive skin.
Enriched with niacinamide, it helps even out skin tone and reduces fine lines, all while providing strong sun protection. Show your skin the love it deserves with this dermatologist-recommended product.
Neutrogena Rapid Wrinkle Repair Retinol Eye Cream is your daily go-to for combating dark circles, fine lines, and wrinkles.
Enriched with retinol and hyaluronic acid, this under-eye cream works its magic to rejuvenate and brighten your delicate eye area. Bid farewell to signs of aging and say hello to a more youthful, radiant look with this 0.5 fl. oz. miracle worker.
Bio-Oil Skincare Body Oil is the dermatologist-recommended solution for scars and stretch marks. This vitamin E serum, suitable for all skin types, comes in a generous 6.7 oz. bottle to help fade scars, even skin tone, and improve the appearance of stretch marks.
With Bio-Oil, you can embrace healthier, more radiant skin and feel confident in your skin's journey.
SOL DE JANEIRO's Visibly Brightening and Smoothing Bom Dia AHA Body Cream is your answer to radiant, smooth skin. Infused with AHA and BHA acids, this body cream gently exfoliates, leaving your skin brighter and more even-toned.
Indulge in the Brazilian beauty secret and embrace that healthy, sun-kissed glow with SOL DE JANEIRO.
Introducing the Derma Roller Microneedle Roller, the perfect gift for skincare enthusiasts seeking rejuvenated and radiant skin.
This innovative beauty tool promotes collagen production, improves skin texture, and enhances the effectiveness of skincare products. Whether used on the face or beard, this microneedling roller is a luxurious addition to any skincare routine, bringing the spa experience home for a fresh, youthful glow.

Skin Care When Getting Married
Of course, you want to look and feel your best as you walk down the aisle. While choosing the perfect dress and arranging the flowers are important, one aspect that often gets overlooked is preparing your skin for the big day.
By prepping your skin, you lay the foundation for a flawless canvas. Clear, well-nourished skin provides a smooth surface for makeup application, ensuring that you look radiant and camera-ready throughout the day.
Prepping your skin in advance allows you to address any specific skin concerns you may have. Whether it's acne, hyperpigmentation, dryness, or uneven texture, starting a skincare routine early can help improve these issues and enhance the overall appearance of your skin.
Consulting with a dermatologist or esthetician can provide valuable insights and personalized recommendations.
QUICK TIP: Do not try new products unless you have spoken to your dermatologist or doctor. If you are trying new products, try them 4-6 months before the wedding. Start will small amounts on your jawline and gradually increase usage.
Conducting patch tests and trials well before your wedding day helps prevent potential allergic reactions or adverse effects. It's crucial to avoid trying new products too close to the wedding to avoid any unwanted surprises.
Wedding planning can be stressful, and it's important to carve out time for self-care. Prepping your skin for the big day provides an opportunity to establish a relaxing skincare routine.
This routine not only nourishes your skin but also offers moments of tranquility and pampering amidst the hustle and bustle of wedding preparations.
Wedding planning can take a toll on your skin due to increased stress levels.
Stress-related skin issues, such as breakouts, dullness, and inflammation, can be minimized by prioritizing self-care and incorporating stress-relieving activities into your routine. This helps promote a calmer mind and healthier skin.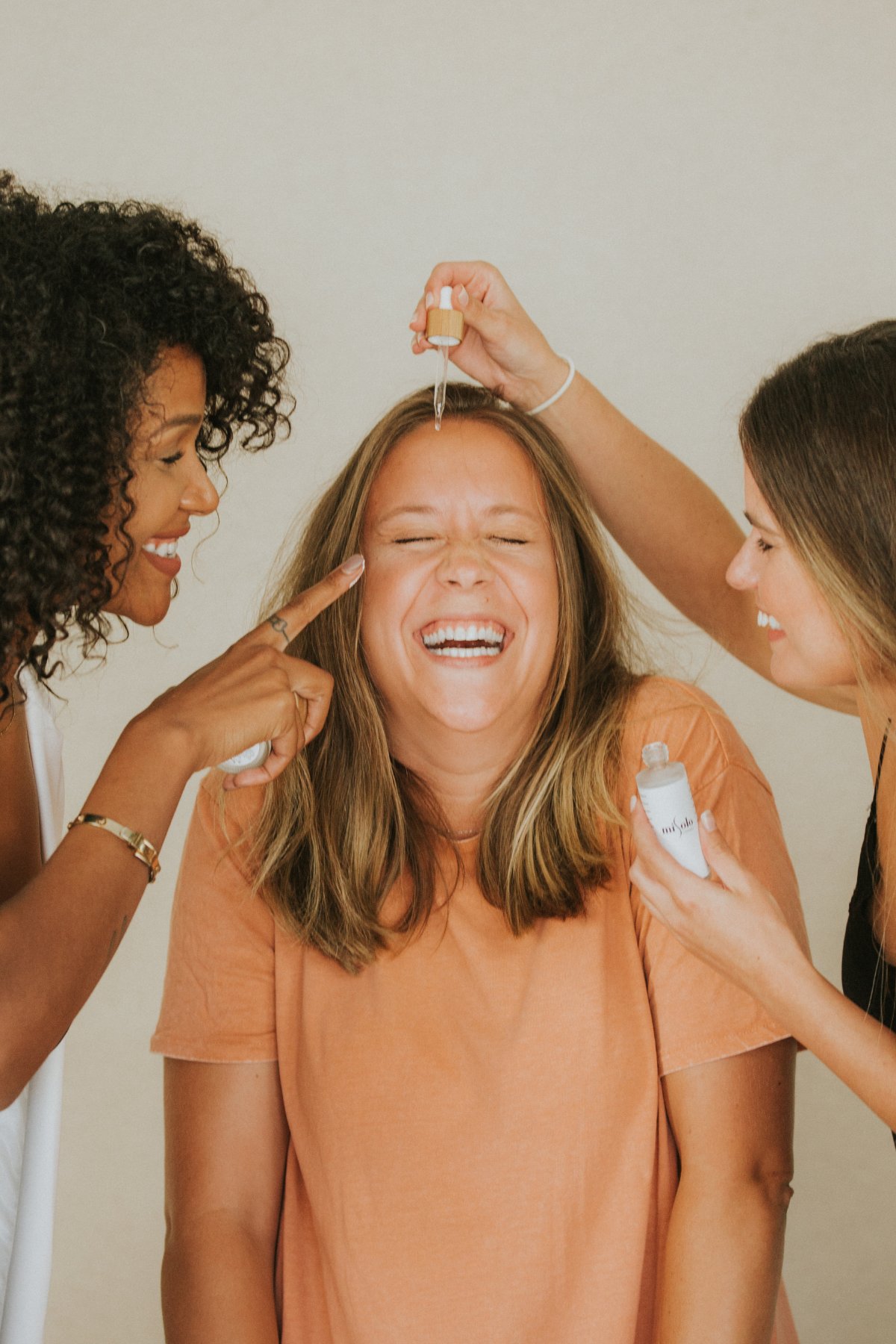 A well-prepped canvas not only ensures that your makeup looks flawless but also enhances its longevity. By prepping your skin, you provide a smooth, moisturized base that helps makeup adhere better, reducing the need for touch-ups throughout the day.
Having healthy, glowing skin on your wedding day can boost your confidence and contribute to a sense of relaxation.
Knowing that you have taken the time and effort to prepare your skin gives you the peace of mind to fully enjoy and embrace every moment of your special day.
Prepping your skin is a way of showing love and care for yourself.
Taking the time to establish a skincare routine and prioritize skin health not only benefits your wedding day but also sets the stage for long-term skincare habits that will keep your skin looking its best in the years to come.
Prepping your skin for your wedding day is an investment that goes beyond the event itself. The habits and routines you establish during this time can lay the foundation for a lifetime of good skincare practices.
There you are lovelies! Skin Care When Getting Married! Skin Care : Gift Guide!
** This post has Amazon links and as an Amazon Associate, Wedding Planning Resources earns from qualifying purchases.