Lip Stains For Your Wedding Event: Top 15 You'll Love. Wedding proof your lips. Achieve a flawless look throughout your wedding with these lip stains. Complete your wedding event look with these gorgeous lip stains. Tear-resistant and beautiful pout on your special day!
This site contains affiliate links. For more info, please see our full disclosure.
Yes to classic all-day wear wedding (and event!) makeup. But you know, there will be a lot of talking, kisses and eating happening.
When it comes to your lips, you want a long-lasting, smudge-proof, and kissable look that will last through all the heartfelt moments.
While traditional lipstick has been a go-to choice, there's a rising trend that offers even more benefits – lip stains.
Lip stains are the perfect solution, offering vibrant color that stays put. They are formulated to have impressive staying power, ensuring your lip color remains vibrant from the beginning of the ceremony to the end of the reception.
The last thing you want on your wedding day is to worry about your lip color smudging or transferring onto your partner's lips, cheeks, or even your dress. Lip stains dry down to a smudge-proof finish, allowing you to embrace every moment without concerns.
These easy-to-manage lip stains require minimal touch-ups compared to traditional lipsticks. You won't have to constantly reapply your lip color, allowing you to fully enjoy the celebration and interactions with your guests.
If you are more into the "natural" look with a polished appearance that will allow your natural beauty to shine through, then lip stains will be your new best friend!
Wedding receptions involve eating, drinking, and toasting. With lip stains, you won't have to worry about leaving marks on glasses, cutlery, or even your partner's cheek during the celebratory moments.
With lip stains, it is less likely that you will see feathering or bleeding through the fine lines around your lips.
Because they come in various formulations, from liquids to balms, it will be easier for you to find the best match for your needs and lips.
From long-lasting color to a kiss-proof finish, lip stains provide the confidence and peace of mind you need to fully embrace your celebration.
In this post, we've compiled a list of 15 stunning lip stains that you'll absolutely adore for your wedding event.
You'll find a good mix of matte lipsticks that acts like stain to give your lips that long lasting color and suppleness.
PRO TIP: Always do a wear test. Try them out for a full day or 2 and see for yourself how it works with your lips. Did it stay put? Or maybe you need a lip primer? Or a lip scrub before putting the lip stain on? Play around with what works best for your lips so you can feel your best and most comfortable at your wedding event!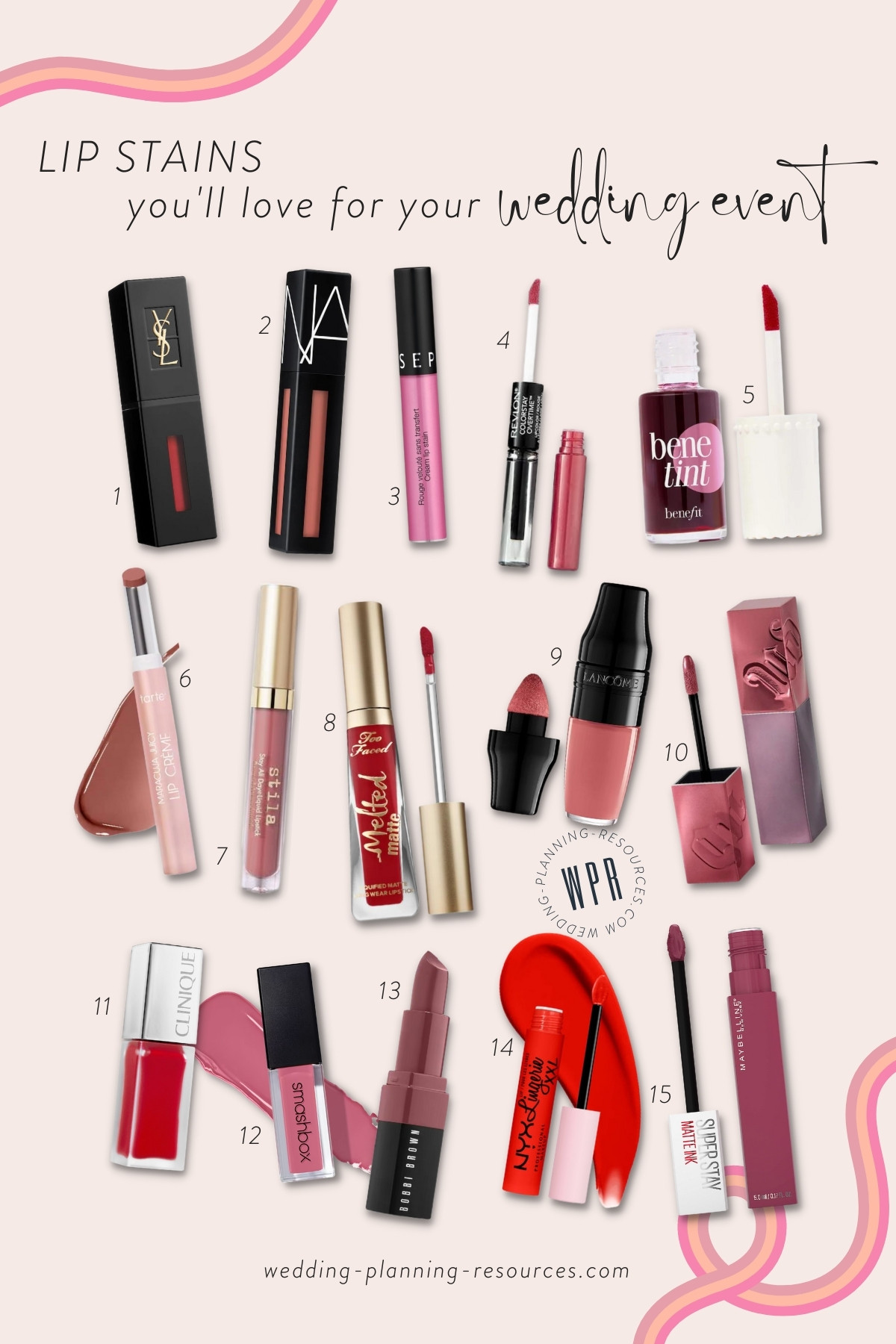 1 ] Yves Saint Laurent Vinyl Cream Lip Stain: YSL's Vinyl Cream Lip Stain offers an intense, high-shine color that won't feather or fade. Its long-lasting formula ensures your lips remain vibrant throughout your special day.
2 ] NARS Powermatte Lip Pigment: For a velvety soft finish that lasts, NARS Powermatte Lip Pigment delivers. Its comfortable formula glides on smoothly and dries down to a beautiful matte stain.
3 ] Sephora Collection Cream Lip Stain: Sephora's Cream Lip Stain is known for its extensive color range and budget-friendly price. It offers rich pigmentation and stays put for hours without drying out your lips.
4 ] Revlon ColorStay Overtime Lipcolor: A two-step lip stain and balm combo, Revlon's ColorStay Overtime Lipcolor offers incredible longevity and hydration – perfect for a day filled with smiles and kisses.
5 ] Benefit Benetint Lip & Cheek Stain: Benefit's iconic Benetint works wonders as both a lip and cheek stain. Its rose-hued tint gives a natural flush that complements any bridal look.
6 ] Tarte Maracuja juicy lip crèmet: "A tribrid lip balm, lipstick, and lip treatment to drench lips in juicy, transfer-proof color and up to 12 hours of hydration." -Sephora
7 ] Stila Stay All Day Liquid Lipstick: For true all-day wear, Stila's Stay All Day Liquid Lipstick is a top contender. Its weightless, creamy-matte finish won't budge during your wedding festivities.
8 ] Too Faced Melted Lip Stain: The Too Faced Melted Lip Stain offers a rich, saturated color payoff that doesn't dry out your lips. The precision applicator makes touch-ups a breeze.
9 ] Lancôme Matte Shaker High Pigment Liquid Lipstick: Lancôme's Matte Shaker Liquid Lipstick boasts an innovative cushion applicator and a weightless formula that lasts for hours without feeling heavy.
10 ] Urban Decay Vice Lip Bond Glossy Longwear Liquid Lipstick: "A long-lasting liquid lipstick that provides instant shine and has highly pigmented color that stays on when everything else comes off." – Sephora. The budge-proof color stays beautifully as you celebrate.
11 ] Clinique Pop Lip Colour + Primer: For a pop of color that's also nourishing, Clinique's Pop Lip Colour + Primer offers a comfortable, long-lasting formula that won't dry out your lips.
12 ] Smashbox Always On Matte Liquid Lipstick: Smashbox's Always On Matte Liquid Lipstick lives up to its name – it's always on and always stunning. The array of shades ensures you'll find your perfect match.
13 ] Bobbi Brown Crushed Lip Color: Bobbi Brown's Crushed Lip Color provides a soft, stained effect that's effortlessly romantic. The formula is buildable, allowing you to adjust the intensity.
14 ] NYX Lip Lingerie XXL Matte Liquid Lipstick: "Meet the first liquid shapewear for your lips that gives you a full-bodied, smooth matte look for up to 16 hours. No crack, no transfer, no fade." -Nyx
15 ] Maybelline SuperStay Matte Ink: Maybelline's SuperStay Matte Ink is a drugstore gem. Its intense color and unbeatable longevity ensure your lips stay flawless from your vows to the last dance.
〰️ These 15 lip stains offer a range of colors and formulations to suit your style and ensure your lips are ready for all the precious moments of your special day.
Every lip need is different. If you already know the formulation that works for you, start with that and see which lip stain will be best suited for your wedding event!
Lip Stains You'll Love for Your Wedding Event: Top 15!