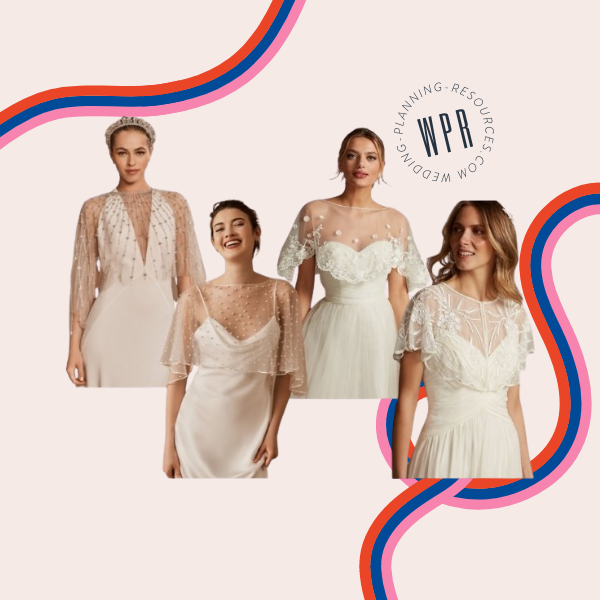 Bridal Wraps, Shawls, Topper & Capelets under $300. Show Freakin' Stopper! Looking for the perfect bridal shawls and wraps for your wedding? The one that matches your style? In this guide, we are sharing our top bridal wraps, shawls, toppers, and capelets for your wedding!
To say we are in love with these bridal wraps, shawls, toppers, and capelets is an understatement.
These lovely fashion statements are the best way to add more "oomph!" to your wedding dress! If you are looking to "change" your look from ceremony to reception without purchasing or changing into a different dress, these products will definitely help you with that! And for under $300, these are amazing steals!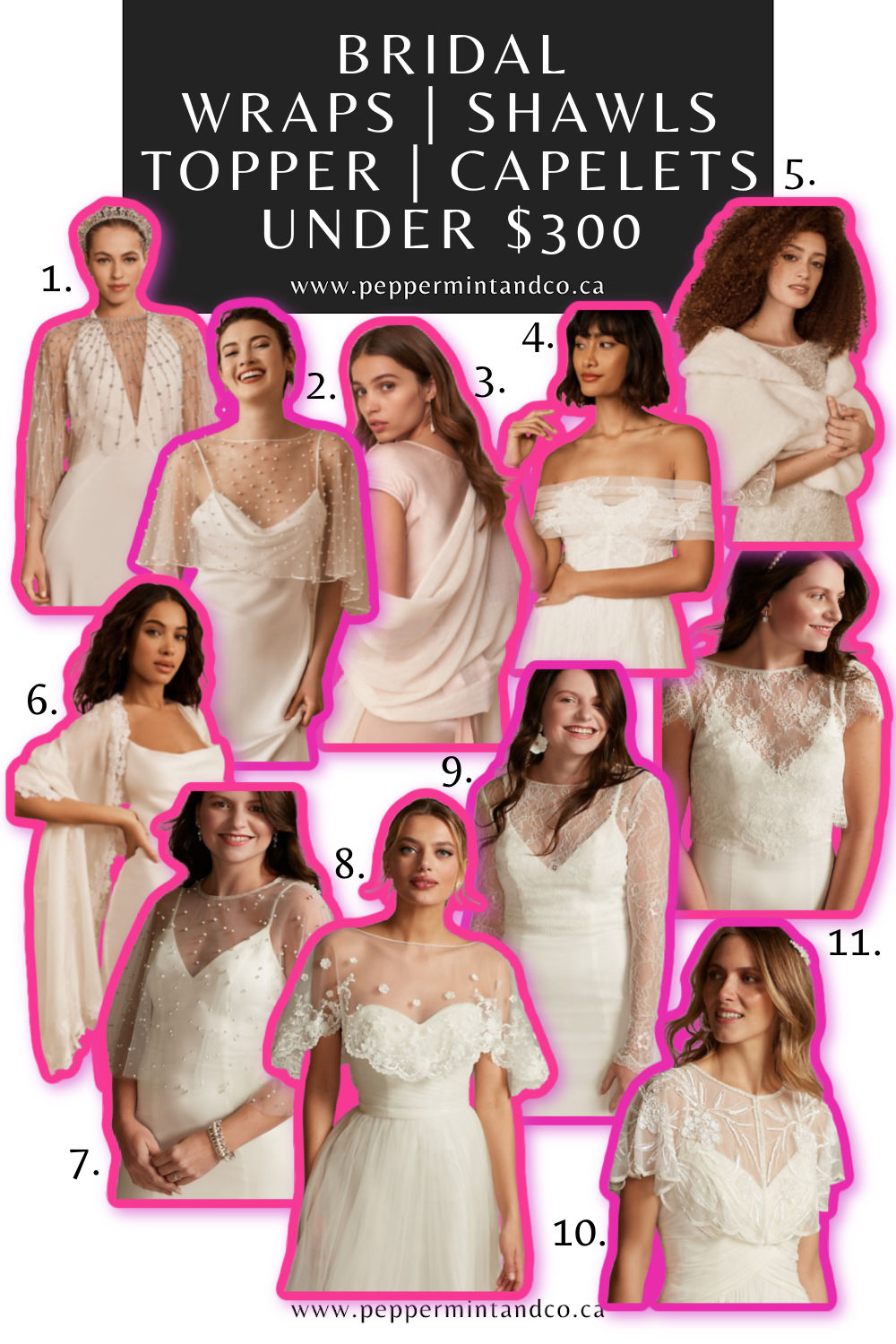 Love the list!
This site contains affiliate links. For more info, please see our full disclosure. In addition, product descriptions are sourced from the manufacturer/brand/seller's shop as linked accordingly.
(1) Terani Couture Amber Cape | Linear beadwork adds sophisticated sparkle to this airy sheer cape.
(2) Jenny Yoo Fiona Topper | Scattered with hand-sewn pearl accents, this sheer topper is a romantic finishing touch for your bridal ensemble.
(3) BHLDN Rue Pashmina | This lightweight pashmina is a perfect complement to your evening look. Semi-sheer and finished with a raw edge, it has a soft bohemian feel we love.
(4) Jenny by Jenny Yoo Jessilyn Shrug | Delicate floral appliques dance across this sheer shrug with pleated details and a button back.
(5) BHLDN Maxime Faux Fur Wrap | Slip on this soft faux fur wrap for a stylish (and warm!) finishing touch.
(6) Maneesha Ruia Olney Wrap | Layer on this lacy wrap for romantic wedding day detail.
(7) Pearl-Encrusted Tulle Capelet with Pearl Button | Drape this dreamy pearl-encrusted capelet over your wedding dress for a vintage-inspired look. Finished with a button at the back.
(8) Scalloped Punch Flower Applique Tulle Capelet | Adorned with 3D punch flower appliques, this lace-trimmed tulle capelet adds a radiant touch to any bridal look while still showing off a beautiful wedding dress.
(9) Long Sleeve Button-Back Lace Topper | This light and airy long-sleeve lace topper feature fabric-covered buttons down the back and lace trim at the cuffs.
(10) Cap Sleeve Eyelash-Trimmed Lace Topper with Tie | Crafted of airy lace and finished with eyelash trim, this tie-back topper will add soft texture and dimension to your wedding dress.
(11) Floral Beaded Mesh Capelet with Scalloped Edge | Made with over 20,000 beads and over 1,000 sequins, this lightweight tulle capelet is a beautiful way to add detailed coverage to a bridal look while still showing off her wedding dress.
The intricate, hand-beaded piece features floral and leaf patterns along with a sweet scalloped edge.
Check out more gorgeous wedding accessories over at David's Bridal and BHLDN! Our top destinations for everything wedding fashion!
There you are! Our top Bridal Wraps, Shawls, Topper & Capelets under $300!