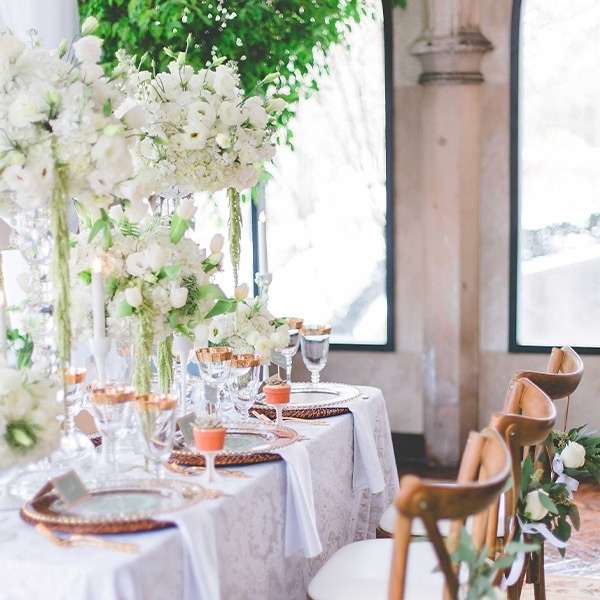 Timeless and elegant. Micro Wedding: Rustic Glam Design Guide.
A touch of sparkle here and there to elevate the nature-inspired decor. A rustic glam theme will give out an inviting atmosphere to your event – something that makes celebrations even more memorable.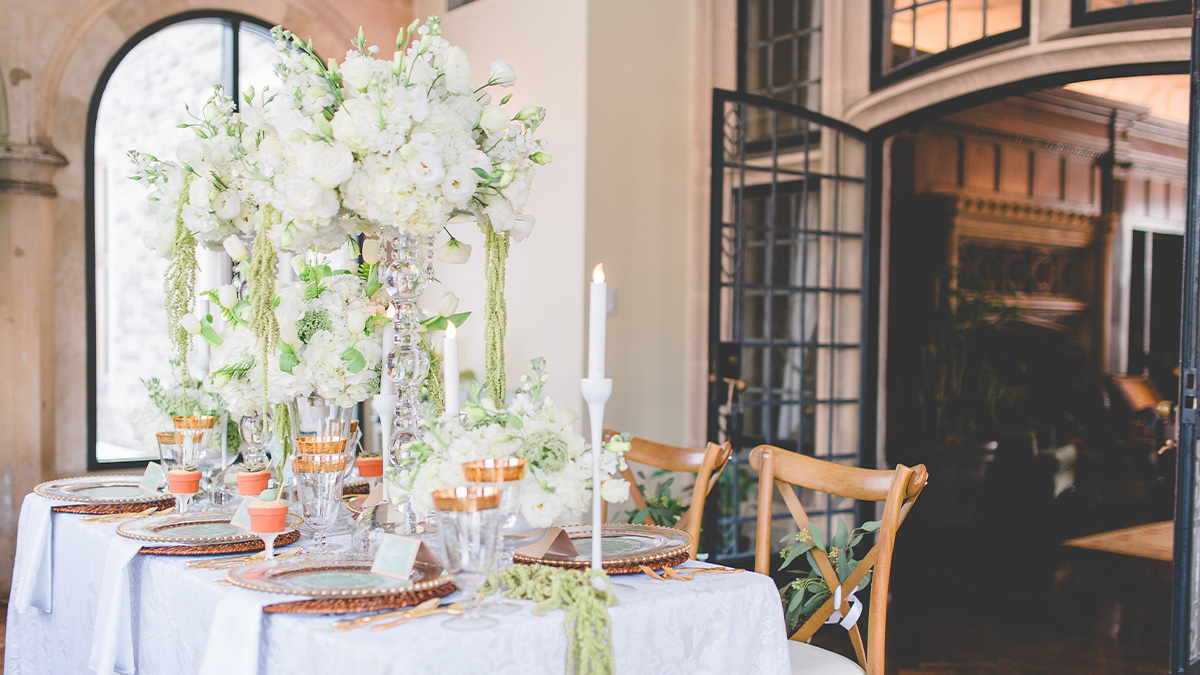 If you're planning/organizing an intimate (micro!) wedding (backyard!), engagement dinner or a special get together, let us help you create a dreamy table set-up with this classic theme for your event. Most products/inspiration shown here are available online! This means you might not even need to head out to put this design together! Perfect for your backyard outdoor micro wedding!
Micro Wedding: Rustic Glam Design Guide. Here's how you can do it:
Begin by laying down delicate white satin linen (you can also use nude or champagne *think neutral colors*) then cover with a beautiful lace overlay as the base of your tablescape.
Place rattan charger plates for a rustic vibe, followed by gold beaded glass chargers to add bling to your setting. Add a folded white satin napkin in between the chargers to soften it up.
Bring more glam by using gold flatware paired with gold gilded glassware, making sure not to overpower the table's natural elements.
You can use succulent cupcakes as an additional rustic component, which could also double as a delicious party favor for your guests.
For place cards, you can use a mint green color (again, think soothing neutral tones) with white lettering and leaf details set over kraft paper to keep with your theme's tone.

The most flexible touch to any setup is flowers! They can be the main highlight or the small add-ons to any pursuit of rustic glam.
In this case, you can use classic white flowers. White flowers, such as hydrangeas, tulips, and lisianthus arranged in clear vases in varying heights, plus white candelabras with some inserts of greenery, ties up the romantic feel of your rustic event.
BREAKING DOWN THE STEPS IN PLANNING A WEDDING
If you're looking to re-create this wonderful theme for your next celebration or your micro wedding, we have rounded, easy creative tips that you can use to execute this seamlessly!
Creative Tips
CENTREPIECES' VARYING HEIGHTS: You can use regular whites boxes (stuff it with paper to make it extra stable!) with different heights as "riser" so you can achieve the height variations without using tall vases or bigger flower arrangements.
FAUX FLOWER ARRANGEMENTS: Choose faux flower arrangements that have fewer greeneries and more solid white color; this will lessen the "faux" look and also will photograph better (less light reflection, the better!)
FAKE FLOWER ARRANGEMENTS: HOW TO MAKE IT LESS TACKY
PLACE CARD HANDWRITING: Start with printing off the names of your guests on a regular paper. Then center it on top of the place card, trace the name with a pen (trace real hard!), now when you lift that paper, you can write along with the guide you just made! DIY Calligraphy (no sweat!)
RE-PURPOSING: Most of these products are something that you can repurpose. The rattan chargers are easy to stack; also, we suggested a lightweight one below that is also easy to stock for the gold-rimmed charger. You can put the candle set and the small faux arrangement on your fourier for added house design. We've chosen small faux arrangements, so it's easier for you to move it around the house and not get stuck with big arrangements. Let's talk about the glassware for a second? This glassware is gorgeous, and you can store them after the event, but bust it out on a date night or keep them as a staple at the bar. The flatware can be everyday use as a "server" or "main" utensils.
PLANNING A BACKYARD WEDDING: 2020 GUIDE
**Our main goal is to share designs, ideas, product choices, and resources that will lessen the working hours (for research, going out shopping, picking up products and set-up) while still keeping it within the budget. These ideas closely (not exactly!) resemble a variation of a theme or design. The execution of your event using our guides will depend on how open you are to alternatives, other options, and unexpected products/design/ideas.**
20 CREATIVE WAYS TO SAVE MONEY ON YOUR WEDDING