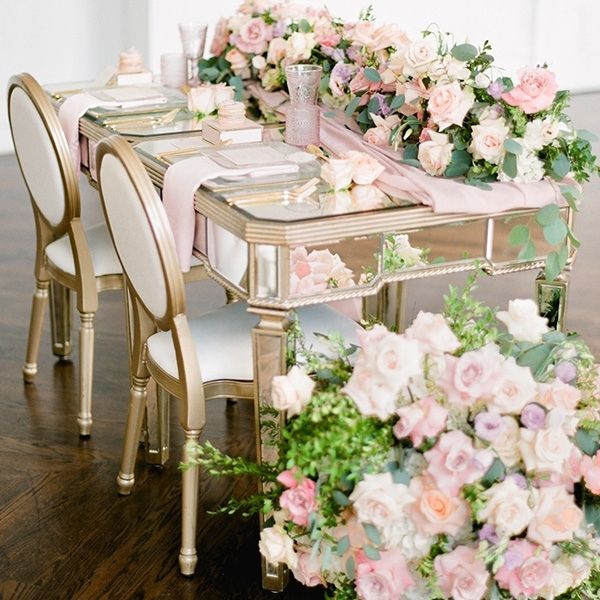 Dreamy and luxurious.. Pastel Wedding Design Cocktail Event Guide.
Pastels are a favorite for weddings as soft tones bring a romantic and elegant vibe. This theme is also often associated with springtime—when majestic flowers bloom, a season that reminds us of wonderful beginnings.
If you're planning/organizing an intimate (micro!) wedding (backyard!), engagement dinner or a special get together, let us help you create a dreamy pastel wedding design + cocktail event guide! Most products/inspiration shown here are available online! This means you might not even need to head out to put this design together!
Pastel Wedding Design Cocktail Event Guide: Here's how you can do it:
To start, we used a mirror top table and draped it with an old-rose chiffon runner. Over the runner and on the accent tables, we placed romantic arrangements of full-bloom roses in blush, light pink, and lavender hues with roses, lisianthus, and greeneries.
We placed square gold-gilded chargers as the base and partnered it with gold flatware and pretty blush-colored textured glassware for the tableware, keeping it true to the wedding pastel design. We used pink napkins and a dainty square menu in blush color to stay true to the pastel wedding design theme.
Place cards were inserted in rosebuds to keep with the lush garden theme, while decadent layered pastries were given as delectable party favors.

For the cocktail table, we used silver serving trays of varying heights for the hors d'oeuvres. Cocktails included popsicles dipped in rosé for some added fun.
The 3-tiered serving tray is such a space saver and adds height to create the perfect space for serving appetizers.
PLANNING A WEDDING: DO'S AND DONT'S
PLANNING A BACKYARD WEDDING: 2020 GUIDE
.
GET YOUR FREE WEDDING PLANNING KIT

Creative Tips
If you're looking to re-create this wonderful theme for your next celebration, we have rounded, easy creative tips that you can use to execute this seamlessly!
CENTERPIECES: The flowers here are hard to recreate on your own. But fear not, we have ideas that will help you DIY it with faux/silk arrangements. The best way to use silk arrangements is by grouping the same type of varieties with fewer greeneries. Greeneries is a tell-tale sign that an arrangement is faux, so avoid it as much as you can! Another thing to consider is to use a colored vase; this will hide the wired green stems, only leaving the best part, which is the bloom itself! Pastel wedding design at its best!
FAKE FLOWER ARRANGEMENTS: HOW TO MAKE IT LESS TACKY
MENU and PLACE CARDS: This is a quick DIY. The key is that you choose a paper with high GSM (the higher the GSM, the heavier and thicker the paper is), and you can use this to print out your menu and place cards. You can easily purchase online punchers with intricate patterns to add flair to the design of your cards.
RE-PURPOSING: The majority of the items we used for this set-up can re-purpose after the event. The mirror top table, for example, could be a piece of accent furniture in your home—the serving trays you can easily store and bring out to your next event. Or you can place it on top of your coffee table so you can place items on it such as candles or plants. The gorgeous glassware you can bring out for date nights or when you feel like using something fancy. You can also use the short glasses as candle holders and put tealight candles to set a romantic mood in your home.
APPETIZERS: If you're planning a micro/intimate wedding (say 15-25 people), purchasing appetizers yourself and having someone prepare them in the trays the day is definitely doable. Choose appetizers that you can pop in the oven (in and out!). Or, if you want something that will fill up your guests more, try this sandwich option.
DRINKS: (see cocktail table photo, drinks in the background): Pre-pour wine in wine glasses (have half wine and half red); there are many affordable wine glasses that you can easily store.
FUN OPTION, add a popsicle to make it extra special and adds to a beautiful presentation; serve this with dry ice for extra theatrics! You can also do a sangria bar to make it "fruity" and something that is also faster to serve/pass around!
DESSERTS: Since you are doing a cocktail event, desserts need not be heavy or big. You can do a cookie bar or even a donut station.
How easy is it to execute this pastel wedding design + cocktail event guide? If you have any questions, let us know in the comments below!
20 CREATIVE WAYS TO SAVE MONEY ON YOUR WEDDING
**Our main goal is to share designs, ideas, product choices, and resources that will lessen the working hours (for research, going out shopping, picking up products and set-up) while still keeping it within the budget. These ideas closely (not exactly!) resemble a variation of a theme or design. The execution of your event using our guides will depend on how open you are to alternatives, other options, and unexpected products/design/ideas.**