Celebrations and COVID-19. Planning and Indoor Wedding During a Pandemic.
As promised, we will also share some tips on how you can keep yourself and your guests pandemic cautious, if you're planning to host an in-person indoor wedding ceremony during a pandemic.
For the second part, we listed some important reminders and things to consider for your reception.
** IMPORTANT NOTE: Check with your local government and public health officials about any guidelines, protocols, policies and/or regulations that you need to meet if you will be holding an event. **
---
Don't forget to pin this post for future reference!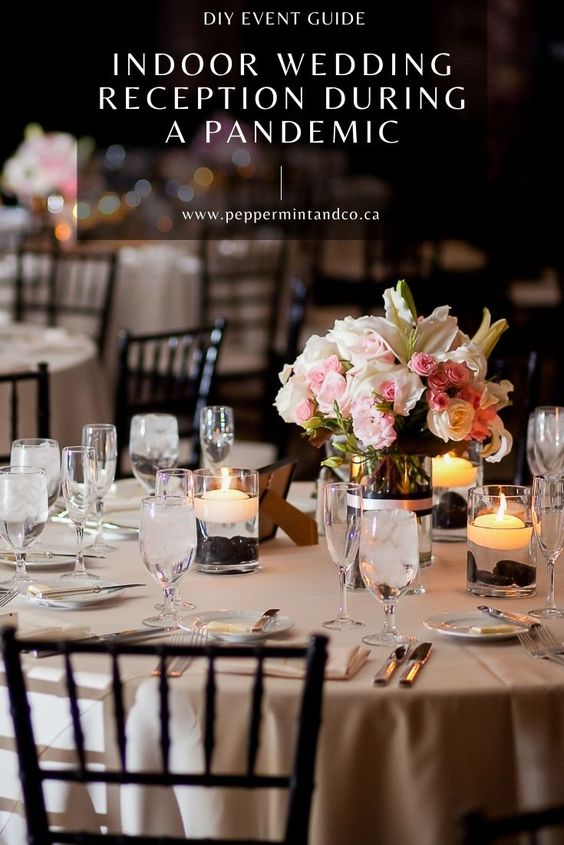 Thanks for pinning! Woot! Indoor Wedding During a Pandemic. Part 2: Reception. Let's get started!
---

SEATING PLAN – A MUST!
Even if you're hosting an indoor wedding during a pandemic for less than 50 people, a STRATEGIC seat plan is a MAJOR MUST. Providing a seating chart will allow your guests to know their assignments, so there is less chance of them to roam around. You could also have family members living in the same household seat together, which is the most ideal set-up.
You can have "pandemic welcome bag" by the door (before they enter the venue) that includes a mask, sanitizer and face shield. To help your guests set themselves up for a safer wedding space as they walk in.
There are customized masks that you can purchase, wherein you can incorporate your logo or colour theme.
It is recommended that you keep the tables 6 feet part with a maximum of 6 guests per table. You venue coordinator will be imposing the guidelines to comply with the government laws and public health official guidelines, please work with them closely to ensure that you safely execute this event.
SAFETY PROTOCOL EXTRA TIP: Together with having your guests and yourself wear a mask and practice social distancing, you can also rent stanchions together with signs, to ensure physical distancing is practiced. To take things further for extra safety, you can also rent clear dividers (you can also decorate it!) that you can put in between tables. Another option is to provide clear face shields that they can still wear, should they need to take the mask off to eat and/or drink. Adding extra preventative measures is always a good idea especially at an indoor wedding during a pandemic.
---
FOOD SAFETY
If you're planning to serve food buffet style, make sure that you choose a caterer that strictly enforces proper protocols when serving food, especially during the time of COVID. A safer way to go would be for food to be served plated, especially for an indoor wedding during a pandemic.
You can also set-up food stations that can be pandemic friendly, and we have a couple of ideas with some pandemic safety tips that you can check out: Cocktail Sandwich Station, Cookie Dessert Bar, Food Station Ideas and Sangria Bar.
---

FLOOR PLAN + DANCE FLOOR
If you're planning to set-up a dance floor, you can skip the one big dance floor (because it would be difficult to have fun and keep social distance, right?) and instead, assign personal dance spaces for your guests. You can make custom floor decals that you can place strategically beside each table for the guests to use as their designated "table dance area".
If your indoor wedding during a pandemic guests, will need to fall in line when they head to the buffet table, make sure that you have marks (stanchions and ushers for crowd control!) that will tell them where to stand and keep a safe 6-foot distance from each other especially at at an indoor wedding during a pandemic.
You can also place signs pointing where the exits and entrances (also washrooms!) are and reminders that guests should follow safety protocols. (This is something you will need to double check with your local health professionals and also you must abide by your local government by-laws and mandates.)
Although we do not recommend buffet style serving, if it is a very small wedding where most people live in the same household, or has already been in each other's household, it might be acceptable. However, the lowest contact probability is with a plated meal.
📝 BREAKING DOWN THE STEPS IN PLANNING A WEDDING 📝
---

FUN ACTIVITIES + GAMES
Yes it may be an indoor wedding during a pandemic, but while you may have to forego some of the usual wedding activities to maintain social distancing, (e.g. traditional bouquet toss) you can coordinate with your host or DJ about other fun activities you can do during the reception.
Activities that guests can participate from while they are in their designated seating area, like this Stand Up, Sit Down game. You can also play Name that Song. To make it extra exciting, you can have prizes like a wine bottle (those $10-15 ones are ok as give-away prizes!). Something easy to clean/wipe down and sanitize!
---

ENTERTAINMENT
Don't forget to entertain! With a more distanced and spread out floor plan at an indoor wedding during a pandemic, there isn't enough mingling, and one way to keep the guests "active" and not "bored" is to have music/band. A DJ can be placed up on a stage, as well as a duo band where people can still see the perform, even at an at an indoor wedding during a pandemic
---
EXIT + CONCLUSION
If you have a DJ/emcee/host, you can provide him with the schedule of exits. Meaning, he can announce that in 30 minutes, they will be concluding the event and the exits are scheduled per table. Or you can also use this time to throw in a final speech/thank you. When the 30 minute mark hits, the DJ/emcee/host can start calling out tables and giving them about 15-20 minutes (depending on how many per table!) to prepare and to walk out.
To make this process a little less awkward, a "gifting station" by the exit can be set up so that they can take things with them actually get-up and walk to it. This station can have an "attendant" that will replenish the "gifts" every time a table leaves. The gifts doesn't have to be elaborate, this can be small boxes of macarons, care package with soap and lotion with custom stickers/logo and even a slice of your wedding cake in a to go box! Lots of options for this one!
I know this is unconventional, but if you only have 1-2 doors where guests enter and exit, it will be too crowdy, and there is a possibility of people not being able to practice social distancing. At that point, crowd control will be much harder to execute. Including all these details on your wedding stationery or through signs on the table, will help your guests with what they will be expecting at your event, remember this will still be an indoor wedding during a pandemic
If you opt out of hiring a wedding planner or coordinator, but need extra server, set-up help and/or bartender, there are staffing companies like Staff Shop, where you can hire help directly and not worry about other things needed to be executed on the day of the event. Always remember to not underestimate the work and hours needed, as well as things that are still to be done on the day-of your wedding, even if you have everything planned already.
📝 PLANNING A WEDDING: DO'S AND DON'TS 📝
---
Although your wedding may be a little different that what we're used to, it also makes it extra special and memorable for you and your guests. That's because you chose to celebrate your union and share it with your loved ones despite all the challenges brought about the COVID-19 pandemic.
DISCLAIMER: We've rounded up suggestions that are pandemic friendly. Please note however, that it is still your responsibility to practice safety protocols, Covid-19 event guidelines and constant hygiene, and if need be, consult your local public health professional and abide by your government mandates. We do not guarantee that your event will be 100% safe, as all safety practices are ultimately up to you and your guests.

Still in the process of planning your wedding? We can help through virtual consultations (available worldwide and the initial consultation is free!), to assist you in building concepts and overall design, whether it be mood board building, or assisting with step by step guides for your set-up. You can also download our complimentary wedding planning binder here to help you get started!
For design guides and product resources, we have a few of the most popular design choices to help you: Lush Greenery, Pastel Design, Rustic Glam and Backyard Wedding.

covid19 wedding tips indoor wedding pandemic micro weddings pandemic wedding tips wear a mask