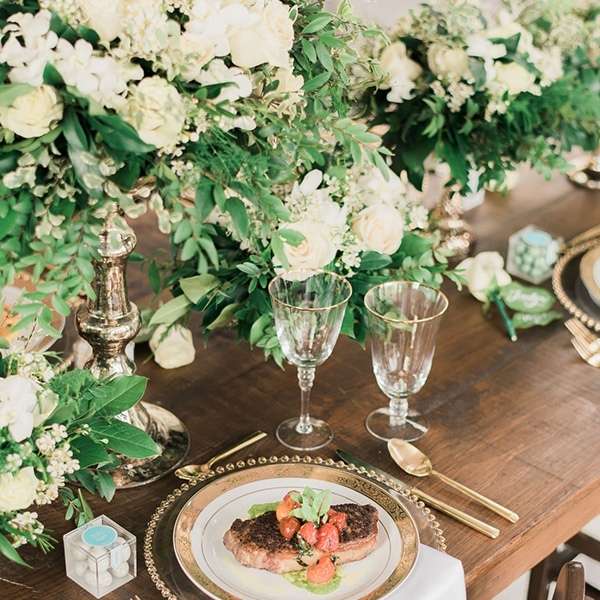 Greenery Wedding Decor DIY Guide. Lush and lavish! We're sharing this DIY wedding inspiration to help you pull off your own version of a beautiful and easy greenery wedding design!
In this guide, we are sharing greenery wedding decor ideas! Easy and affordable wedding ideas! Whether you are looking for a greenery garland or a eucalyptus garland, we have ideas to help you out! From wedding signs, wedding favors, escort cards, place cards, floral and decor to tablescape design, we are sharing all these with you to help you with your wedding planning and design!
This site contains affiliate links. For more info, please see our full disclosure. This post has Amazon links and as an Amazon Associate, Wedding Planning Resources earn from qualifying purchases.
We'd say a theme inspired by Mother Nature will not easily go out of style. Look for the right combination of greens, and pretty blooms, plus wood and gold elements, and you'll have a picture-perfect design for your event.
If you're planning + organizing an intimate (micro!) wedding (backyard!), engagement dinner, or a special get-together, let us help you create a dreamy, lush greenery wedding design and guide you through the table/decor set-up.
Most products/inspirations shown here are available online; from beautiful wedding flowers, wedding decor, and even wedding cake ideas! This means you might not even need to head out to put this design together! You will love how simple this design can get!
Let's get started putting together this modern and stunning wedding idea!

Greenery Wedding Decor DIY Guide. Here's how you can do it:
To start, we chose to use wooden furniture to keep with the natural feel mostly. If you've been around here, you know a few of our favorite table setting details are gold-rimmed chargers & glassware, as well as gold flatware.
IMPORTANT TIP: Always order one or two of each product first to see how they will work for you. Then from there, you can order in bulk.
These classic gold pieces will elevate any setting and set a great backdrop for your table decor. Having them handy will always give your event that extra "glam," not too much, just enough to give out that regal feeling, even for this lush greenery design.
A banana leaf with a beautifully handwritten menu adds a unique and personal touch.
While custom-made roses were used as place cards, guests' names and a short "thank you" note were written on the rose leaves. Lush greenery, right?
Wedding favors are Sugarfina candies placed in small clear boxes and placed on the table for guests to bring home.
We used lots of greeneries (salal, Italian Ruscus, Queen Anne's lace) for the centerpieces; also added white roses, white dendro orchids, and white waxflower inserts. How about using vases of varying heights to create that movement?
You can also opt to go easy on using flowers and go for an all-lush greenery wedding design arrangement, especially if you're working on a budget.
A white napkin cuts through the gold and the wooden elements, which creates a more balanced effect.
An intricate yet DIY, lush, greenery wedding design is achievable. You have to have a touch of inspiration, a dose of creativity, and the right items to pull it off.
If you're looking to re-create this wonderful theme for your next celebration, we have rounded, easy creative tips that you can use to execute this seamlessly using our wedding design guide.
Creative Tips
LINEN / WOODEN TABLE: Here's a hack, use linen that has a wooden print. We've included a curtain that has a wooden finish. Just ensure to tuck in the part where the rod goes, and you should be good! NO ONE WILL KNOW! (unless you tell them!)
CENTERPIECES: You can use pre-made faux arrangements. Suppose you're still opting for lush fresh greeneries, order bunches of greenery from your local flower shop. If you'd like to DIY it, you'll need to stick to groupings. You can buy vases of varying heights and let the greeneries flow freely.
PRO TIP: You can also use acrylic risers! They are great for centerpieces and for reuse at home!
Another hack is that you can use potted plants (real or faux!), and you can use wooden or white boxes to raise them and have varying heights. Ensure to fill the boxes with paper so they will not be hollow (no one will know!)
If you are using silk or artificial flowers and greenery, select greenery varieties that are more on the muted green colors so that it won't look and feel like it is plastic (although it is!)
In addition, consider using white vases so that no one will see the stems – which is what will give away if it is a fake arrangement!
Here are tips on how to make fake flowers arrangements look more real!
Also, if you are looking for fresh and easy greenery garlands, here is a step-by-step guide!
MENU and PLACE CARDS: If you're still practicing your calligraphy skills, a simple hack is to print out the text you want to include on regular paper and trace over (careful not to make holes) the leaves.
Lift the paper, and you'll have a guide to write the names and menu using a white ink pen.

HACK ALERT: get a silk potted banana plant (see link); you need to cut off the leaves and get on with your calligraphy (and tracing!) skills!
RE-PURPOSING: If you chose to buy products (especially for a micro wedding!), select products that you can easily store and that you can also bust out on your next event.Products that can work easily with other designs/themes.
This lush greenery wedding design is one of our favorite designs! Just altogether classic, yet with some details, it can be easily modernized.

There you are! Hope you enjoy setting up your tablescape with the help of our Greenery Wedding Decor DIY Guide!
** This post has Amazon links and as an Amazon Associate, Wedding Planning Resources earn from qualifying purchases.